Buttonwood Belize Apartments
Hopkins Belize Apartments
(Located three blocks north of Coconut Row.)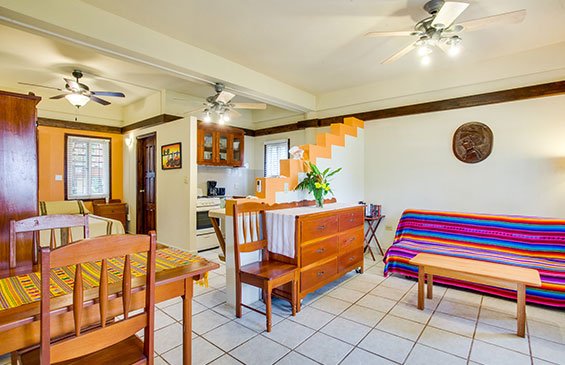 Bread & Butter Studio Apartment
This large ground floor studio apartment has a queen bed and a futon in addition to a full kitchen with table/chairs and a living area. There is a private deck outside with chairs and hammocks to relax in the sea breeze. This apartment is perfect for long-term use or for couples or trios looking to do their own cooking.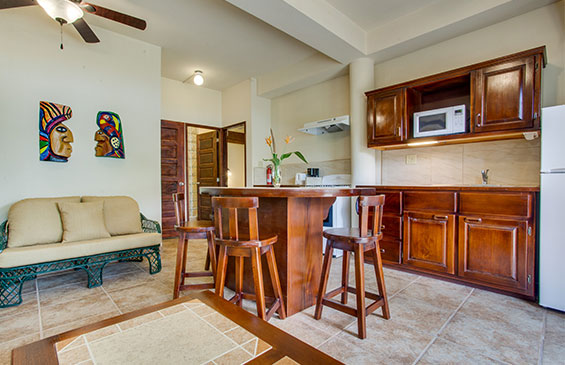 This ground floor apartment accommodates four people and has a full kitchen with an island, a sofa to watch TV (not available for guests to sleep on), and two bedrooms: one with a queen bed, the other with two twin beds. There is a palapa – a deck area covered with thatch – outside for the private use of this apartment, with chairs and hammocks. This apartment is perfect for families.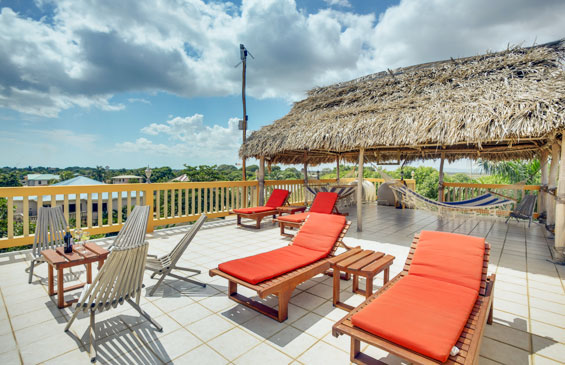 Rooftop Hangout - open to all Buttonwood guests
The rooftop is open to all Buttonwood guests and boasts the second tallest view in all of Hopkins, a covered roof, chairs, tables, hammocks, a sink and a refrigerator. The view of both the sea (and cayes) in the East and the mountains in the west is spectacular, making this a fabulous place to hang out and enjoy your stay at Buttonwood!
*We include "nightly Air Conditioning" in your room rate, which means that you are welcome to use the A/C at night, free of charge. 
Learn More