Snorkeling, Fishing & Reef Adventures
Hopkins Belize Snorkeling, Fishing & Sailing
For Tour Prices (as well as our restaurant menu, check-in instructions, and hotel messaging), please download our Vamoos App from the Google Play or Apple Store.  Simply enter "coconutrow" as the user ID, as well as the dates of your stay.  Any adventure specials that we run during your stay will be sent to you on Vamoos.
For questions and arrangements regarding our activities, please contact our Front Desk at (518) 658-3677 (US) / 615-3003 (BZ) / +501 615-3003 (WhatsApp) or frontdesk@coconutrowbelize.com.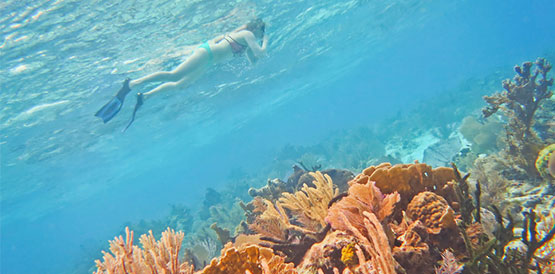 Snorkeling at the Barrier Reef
Don some snorkel gear and get a fish-eye view of one of the most gorgeous reefs in the world! No prior snorkeling experience is necessary – our guides are highly trained, very experienced, and very patient! Hang with them and you'll be a pro in no time! This will be a spectacular, relaxing day that you'll never forget. You'll leave at 8:45, snorkel from the boat at the reef, go to a gorgeous beach caye for lunch (usually South Water Caye) where you can snorkel from the shore or lounge under the coconut trees. Then you'll snorkel at another spot on the reef and come home around 3-3:30 pm. A half-day snorkel leaves at 7:45 and is back by 11:30ish.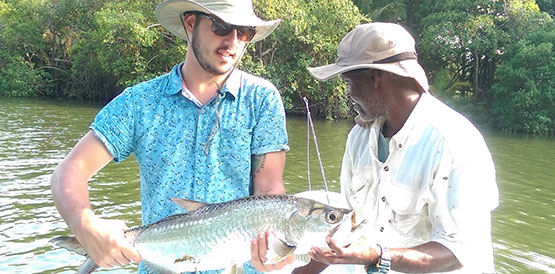 Reef Fishing Or Fishing/Snorkeling Combo
Experience the thrill of fishing on the reef! First you'll go to a mangrove caye, where you'll watch your guide cast spin nets to catch the bait you'll use. Then you can either fish the whole day or fish for half the day and snorkel for half. (Your guides will decide which to do first, depending on the weather, currents, etc.) If you want to fish Belizean style, try a hand line! If you'd like to have your fish for dinner, ask your guides to fillet them and the restaurant will cook them up and prepare some sides. (Please note this is an extra charge.) This trip leaves at 8 AM and is back by 3 PM.
What's better than fishing? Fishing and an island beach cookout all courtesy of your captains/chefs! First you'll go to a mangrove caye, where you'll watch your guide cast spin nets to catch the bait you'll use. Then you'll fish for your lunch – better catch something! (We're confident that you will.) We'll take you to Bread & Butter Caye, where your guides will grill your fish along with a few sides for lunch. You can explore, snorkel from the caye, or chill in a hammock while they cook.
This might be a day you'll never forget! This trip leaves at 8 AM and is back by 3:30 P.M.
Go fly-fishing for permit, tarpon and bonefish with the famous Lloyd Nunez! Great for all fly fishermen regardless of experience, but Lloyd is a world-class fly fisher! Lunch included. Only two people max per boat. 
What's included and what to bring?
Snorkeling gear is provided, as is lunch and drinks for full day tours There is a Marine Park Entrance Fee of USD $5/person. We will not charge you for this, because you are only required to pay if a ranger requests it. Please carry USD $5/person (or BZD $10) in case you are required to pay. Snorkeling logistics and food are prepared the night before, so reservations cancelled the same day as the snorkeling trip – even to simply postpone the trip – are subject to a mandatory USD $20/person cancellation fee.
BRING:
sunscreen
hat
sunglasses
swimsuit
bug repellent
camera
towel
windbreaker
US$5 per person