Mayan Ruins & Cave Tubing
Hopkins Belize Cave Tubing, Mayan Ruins & ATM Tours
For Tour Prices (as well as our restaurant menu, check-in instructions, and hotel messaging), please download our Vamoos App from the Google Play or Apple Store.  Simply enter "coconutrow" as the user ID, as well as the dates of your stay.  Any adventure specials that we run during your stay will be sent to you on Vamoos.
For questions and arrangements regarding our activities, please contact our Front Desk at (518) 658-3677 (US) / 615-3003 (BZ) / +501 615-3003 (WhatsApp) or frontdesk@coconutrowbelize.com.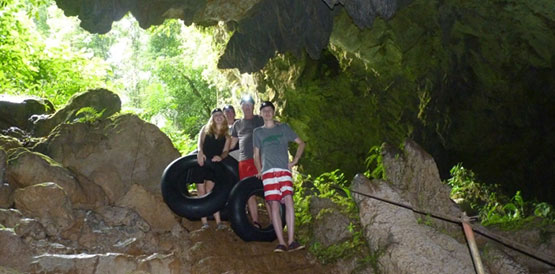 Mayan Ruins or Ruins/Cave Tubing Combo
Explore the Mayan ruin of Xunantunich (pronounced Shu-nan-tu-nitch), meaning "Stone Maiden." Located near the Guatemalan border, a hand-cranked ferry will take you across the river to this major ceremonial center situated high on a limestone ridge with a panoramic view of the area. The core of Xunantunich occupies about one square mile, consisting of a series of six plazas surrounded by more than 26 temples and palaces. One of its structures, the pyramid known as "El Castillo", is the second tallest structure in Belize (after the temple at Caracol), standing 130 feet tall.
There is a $10/person entrance fee (not included.) While it is easy to hire a guide on-site, we recommend against it. There is a small museum there which has a miniature layout of the entire site, and which also lists all the known facts and history of the site. Check out the museum before you begin, wander around, and climb El Castillo (the largest pyramid) last. Then let our driver take you for a nice lunch before returning (not included.)
Bring: bug repellent, good hiking shoes, camera, sunscreen, water, and comfortable clothes.
While it makes for a long day, we highly recommend combining this trip with the Cave Tubing/Blue Hole at St. Herman's Cave System. The cave tubing is fantastic, and it's a long drive to take twice? This is a great way to maximize your Belize vacation!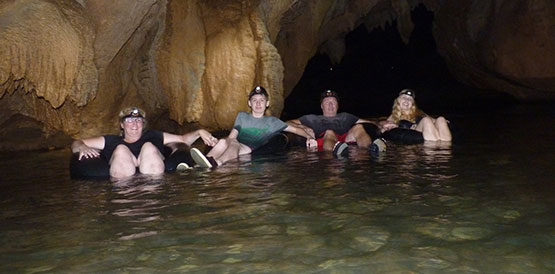 Cave Tubing (& Blue Hole)
Combine cave tubing and cave exploration to explore this incredible river cave system where ancient Maya Ceremonial centers, pottery, artifacts, altars, obsidian blood letting blades, jade and the actual footprints of the shaman and priests dated to 400 A.D. are still seen. This cave system is like nothing you've experienced before; certainly not like the caves in the US! It is awe-inspiring! The cave tubing takes about 2 ½ hours. You'll walk through the first part of the cave system, then jump in some tubes and float back. Afterwards, enjoy a swim in the Blue Hole. Price includes park entrance fee. Local lunch is available for USD$5 per plate – just let us know if you'd like it. If you have any interest in seeing Mayan Ruins, we highly recommend combining these two adventures!
Bring: bug repellent, swimsuit, towel and water shoes, plus a change of clothing. Headlamps are included.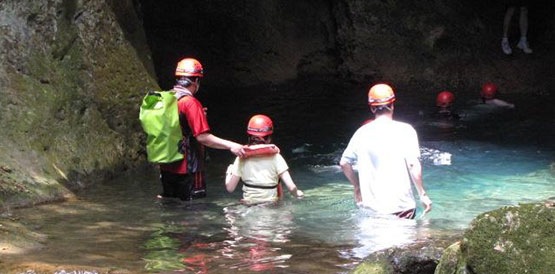 The spectacular ATM Caves
One of the most spectacular adventures in all of Belize – we've never sent anyone who didn't come back and say "wow!" Discover the world of the ancient Maya as you pass through the hourglass-shaped opening of the beautiful Actun Tunichil Muknal (ATM) cave. ATM "The Cave of the Stone Sepulcher" is one of the most thrilling caving experiences Belize has to offer, bringing you face to face with incredible archaeological relics.
This is an active adventure trip; you will spend some 3 hours in this cave system and 45 minutes hiking through the rain forest, crossing the river three times. You will have a short swim at the cave entrance; thereafter you will be walking through the cave in water ranging from your knee to your waist, and in a few instances water may reach to your chest. There are a few tight spaces within the cave and at one point you will climb a ladder to an upper chamber in order to see the "Crystal Maiden". We recommend bringing an extra pair of socks, which you will need to wear in this upper chamber.
Bring: Short pants and t-shirt (you will not be allowed to enter with only your bathing suit), some type of closed-toe water shoes (Chacos, Tevas, Keens, etc), a pair of dry socks and a set of dry clothes. Optional: Sun block, repellent, and rain jacket. NO cameras allowed, however, the guides should be able to provide you with some photographs.