Wow, so much has happened since our last post that I guess it's time for an update. Thank you to everyone who has contributed to this issue, either by emailing or by posting on Cheryl Rowland – Nunez's excellent Facebook group, Save Hopkins Beach. I apologize if this is a long and boring post, but it's all info that I feel I should share.
On Monday morning, apparently after media inquiries, Lands called to say that they'd be sending out an assessment team on Tuesday, which they did. Lands, just as Environment, was willing to say that the groin should come down, but unsurprisingly refused to say what their official report would say. I guess we will find out soon enough; the report has been given to the Commissioner and we expect some sort of answer in the next day or two. One interesting thing that the Lands Inspector did, which I hadn't thought of – he found a property peg and measured the public area to assess the erosion over time. We should have 66 feet; we had 28.
On Wednesday, we made contact with SEA – the Southern Environmental Association, who promised us a visit this week. Apparently they have had some success in bring back beaches in places such as Monkey River (where I was told they'd eliminated all groins, though I need to confirm that.) We are sorely in need of some expertise when it comes to stabilizing and rebuilding our beach, so we are looking forward to their visit. The BTIA also put us in touch with NEAC (National Environmental Assessment Committee), who we also hope to hear from soon. If anyone knows some other experts or environmental groups that we should call, please let me know!
One great thing that happened on Monday night; rough water (though it eroded us some more where there were no trees) carried away all of the debris and the seaweed floor that had built up along shore, leaving the bottom sandy and the top calm. So on Tuesday we had the first day that incoming guests did not leave early – we built some steps out of sandbags so they could get in and out of the water.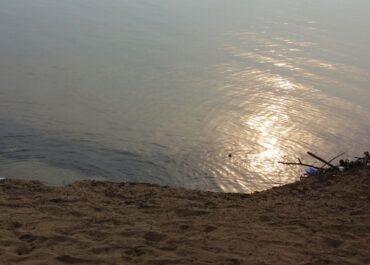 Yesterday, I had a fascinating Skype conversation as a coastal reclamation firm in the US called me. By midday, they had a presentation ready, complete with Google Earth photos and a powerpoint presentation, and were able to tell me – with very little information from me, exactly what was happening in the area! I'd like to share some of their info:
1) As a rule of thumb, 15% of the sediment that makes up our beach comes from out at sea (cross shore). 85% of the sediment comes along a current parallel to the beach (long shore). Most current, and therefore sediment, in Belize travels from north to south. This means that nearly 85% of our sediment is coming from the lagoon. But the sand is always in motion. My sand is not my sand – my sand today is my southern neighbor's sand tomorrow, while my northern neighbor's sand today is my sand tomorrow. This is why the groin is so disruptive – our sand continues moving to the south, but the flow from the north is interrupted, meaning that our own sand is not replenished! And since 85% of it is coming along shore from the north, there is very little sand left. This is why it is physically impossible for our beaches to come back without the removal of the groin.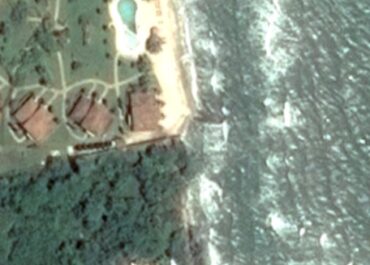 2) Having said that, they feel that the groin cannot be the only reason for the very abrupt erosion, though it will be the primary preventer of a long term recovery. The definition of a groin is that it gradually builds up sand on one side of the groin and gradually erodes the other side. Or more accurately, since sand is always in motion, it prevents the natural replenishment which is needed even to keep the beach the same size, and so we see the erosion. One other possible factor, they feel, was a large buildup of abrasive seaweed, which in windy conditions can scour the beach. That sounds very plausible. However, the seaweed is now gone and the replenishment of the beach will probably be impossible without the removal of the groin.
3) The size of the groin does not only determine how much sand is blocked from replenishing the beach. It also determines the distance of the area affected. Any sand avoiding the groin needs to travel out farther from shore to get around the groin – the farther out from shore it travels, the farther south it will float before settling ashore. Therefore, the longer the groin, the farther south the sand must float before it comes back ashore. This is why the resort area in the south has bigger beaches than ever (one resort told me yesterday that, not only is their beach bigger, but that the water is 2′ shallower than it used to be, due to all the new sand!) It is also why we can expect the beach on the south end of Hopkins to recover better than the center or the north, as it will get some of the sand that evades the groin. And it means that, even if the groin is full and sand resumes flowing into the village, the north and center beach will not recover much because the sand is being diverted too far south.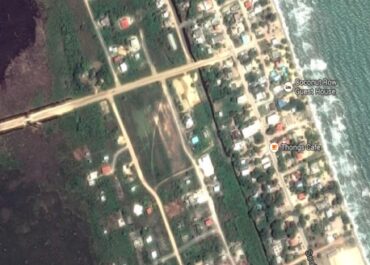 One other thing – Hopkins Bay has some brand new managers named Rob and Landy, who have been in the country for less than a week. I had a chance to have a few drinks with them the other night, and I must say, they are exactly what Hopkins Bay needed, and they are also the type of people we should want to see in Hopkins Bay! They are friendly, authentic people and have already been asking me to introduce them to people in the village so that they can get involved and be active in the community. And while we need to keep the pressure on Hopkins Bay, we should realize that the current management were not part of the original problem, and that they can indeed be part of the solution.
Last night, the Chairman, Cheryl, Rob, Jonathan (the Managing Director of the management company for Hopkins Bay), and myself sat to discuss the issue. The management team asked that we recognize that none of this is of their making, which is correct. They also said that they are happy to work with Hopkins in coming to a solution. They report to a Homeowner's Association and cannot simply remove the groin without permission. However, they are amenable to a compromise, which we agreed to discuss after Lands announces its findings. And, in the development that has us most excited, we agreed to pool together our resources to bring in a true, impartial expert to assess the entire beach system, from lagoon, to groin, to beach, to Sittee River, to make recommendations on how we can all reclaim our beach. This will be expensive, and in the interests of impartiality, I would like Hopkins to contribute its share of the money (and food, lodging, transport, etc), so for those of you who are good at raising donations, we will need your help!
Now that the process of reviewing the groin is underway, we need to shift our focus back to how to stabilize, and then regrow, our beach. We've been blessed with calm winds the last few nights, but another rough night will cause some major damage, as the beach is literally crumbling where there are no trees (and many trees are on the verge of falling in!) We really need some expert, technical advice. So please, anyone who has some knowledge, or who knows someone who knows someone, give us a call!